WoofConnect: Free Dog Boarding in Cleveland – A Vacation for Your Dog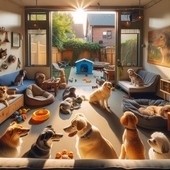 Have you ever wondered where to leave your dog when you're on vacation or just out of town for a few days? Finding a good place for your pet in Cleveland isn't easy. It's tough to think about your dog staying somewhere cold and expensive. But imagine if your dog could have a nice, homey break while you're not there. This is where WoofConnect comes in, offering a great solution for dog boarding in Cleveland. We find local dog owners with pets similar to yours to take care of each other's dogs for free. You look after their dogs, they look after yours, and it doesn't cost anything. This is what makes WoofConnect so special.
WoofConnect: A New Friend for Your Dog in Cleveland
We aim to match you with local dog owners like yourself. When dogs of the same breed and age hang out, they often get along well and have fun together.
Cage-Free, Full of Love Dog Boarding – A Slice of Heaven for Dogs in Northeast Ohio
Forget about old-fashioned kennels with cages. WoofConnect links you up with pet owners in Cleveland who open their homes for your dogs. There, your pets can hang out, play, and receive personal attention in a homely environment. It's not your regular boarding service; it's like having another family for your dog in the heart of the city.
Trade Expensive Kennels for Complimentary Dog Boarding in Cleveland
Normal dog kennels around Cleveland can hit your wallet hard. When you see the friendly, free service that WoofConnect offers, it's no wonder dog owners here are choosing us. We don't charge for our homestyle boarding, which even includes extra treats and sleepovers!