WoofConnect: Free Dog Boarding in Akron – A Comforting Second Home for Your Pooch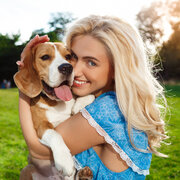 Any dog owner will tell you that figuring out what to do with your four-legged buddy when you need to be away can be a real pickle. The thought of leaving your dog in a chilly, pricey kennel in Akron is enough to make you cancel your plans. But, hey, you want a break too, and you want to know that your dog is in a place that feels like home. That's where WoofConnect steps in, offering you a unique dog boarding solution right here in Akron, Ohio.
WoofConnect: The Perfect Dog-Sitting Matchmaker in Akron
WoofConnect hooks you up with local dog owners who not only have a pooch of the same breed and roughly the same age but are also looking for dog boarding options. It's like a mini doggy holiday at a friend's place! As the dogs are of the same breed, they instantly click, matching energies and temperament. It's not just a solution for your vacation, but a fun-filled break for your dog too!
Home-Like Boarding: Your Pooch's Vacation Spot
No impersonal kennels, no cold cages. Just a cozy home setting for your dog with a local sitter who understands your dog's breed and energy level. It's like leaving your dog with a trusted friend.