Free Dog Boarding in Cincinnati – The Ultimate Holiday Spot for Your Dog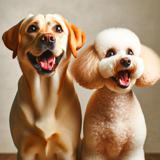 Worried about where to leave your four-legged friend when you take a trip or weekend escape? Don't stress over leaving them in a sterile, expensive kennel in Cincinnati. Instead, you want a place that feels just like home—a spot brimming with love and care. Well, WoofConnect is on hand to match your dog with their perfect Cincinnati host. Maybe someone who has a dog similar in breed and age, who's looking to help you out. It's about mutual benefit—you watch their dog while they watch yours on vacation times, which often leads to shared adventures. When breeds and temperaments match, the vibes are always great! WoofConnect is all about finding top-notch dog boarding in Cincinnati.
WoofConnect: Connecting Cincinnati Dog Parents for Sleepovers
Find your perfect pairing with other dog parents in Cincinnati who are also interested in dog boarding. If they've got a pooch that's of the same breed/age, it can make for an instant connection. They speak the same 'language' and share the same energy levels. That's a great match!
Your Dog's Second Home in Cincinnati
No chilly kennels, just a cozy bed in a homely setting with a local dog-sitter in Cincinnati who gets your dog's type and pep.
Swap Pricy Kennels for Complimentary Doggie Sleepovers
Staying at typical dog kennels in Cincinnati might set you back $35 to $55 daily, and a week could cost up to $200-$350. But with a home sitter, the bill might be even higher. Do you and your dog a solid by picking WoofConnect! Give your furry friend free affectionate care in a comfy home, not costing you a dime. Our sitter squad is full of true blue dog enthusiasts ready to lavish your pup with tailor-made TLC.