Finding Home Sweet Home for Your Furry Friend: Free Dog Boarding in Philadelphia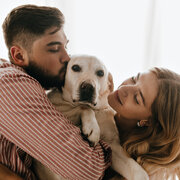 Is there anything harder than leaving your furry best friend behind when you go on vacation? As a dog owner in Philadelphia, you want to make sure your puppy is comfortable and cared for while you're away. But boarding your doggy at a kennel can be stressful for you both. That's why WoofConnect is transforming overnight dog boarding in the City of Brotherly Love.
Skip the Kennels – WoofConnect Offers Homestyle Dog Boarding
With WoofConnect, you can avoid kennels and dog boarding facilities altogether. Instead of confining your Philadelphia dog to an impersonal facility, WoofConnect matches you with another trusted dog owner right in your neighborhood. Your pup gets to stay in a real home in the heart of Philadelphia and make a new furry friend!
Traditional kennels in Philadelphia can cost $45-$65 per night for overnight boarding. That adds up fast for a week-long stay! With WoofConnect, you get affordable in-home boarding prices. Your puppy stays with another dog parent who will give them the same love and care you do.