Escape the Kennels – WoofConnect Offers Homestyle Dog Boarding in Allentown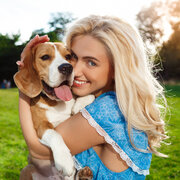 Are you tired of boarding your pup at an impersonal, costly kennel every time you travel? There's a better way! At WoofConnect, we've created an app that connects local Allentown dog owners for pet sitting swaps and homestyle boarding. Keep reading to see how our innovative platform provides a tail-wagging experience for your furry friend.
Stay in a Real Home, Not a Kennel Cage
With WoofConnect, you can avoid kennels completely. Instead of crating your dog for days on end in an uncomfortable facility, they get to stay in a real Allentown home!
Our app matches you with a fellow dog owner right in your neighborhood. Your dog will make a new furry canine friend and enjoy playtime, cozy overnights, home-cooked meals, and walks in a loving household environment. No more loud, crowded kennels with endless rows of cages and minimal human interaction. At their WoofConnect home away from home, your dog becomes part of the family!
Save Hundreds Through a Free Pet Sitting Exchange
Boarding your dog at an Allentown kennel typically costs around $40-$60 per night. For a week-long stay while you're away, you could be paying $280-$420 just to have your dog stuck in a cage! With our service at WoofConnect, we offer an affordable alternative to these outrageous kennel costs.
Through our dog sitting exchange system, local Allentown dog owners can watch each other's dogs in a swap system. You care for another trusted community pup one period, and the owner returns the favor by hosting your dog when you are out of town. This allows our members to save hundreds of dollars in boarding fees. It's a budget-friendly way to make sure your furry family member is covered with premier care when you need to travel.