Cost-Free Dog Boarding in Medford: WoofConnect, Your Dog's Personal Vacation Destination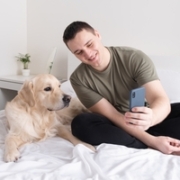 Every dog parent has been there: where to leave your fluffy buddy when vacation calls or a weekend escape is on the cards? Leaving your best friend in a bland, high-priced kennel in Medford hardly seems fair. Wouldn't it be better if your pooch had a snug, homey place to relax while you're away? A place where they'd be treated with the same love and attention you give them? Enter WoofConnect – more than a dog boarding service, it's your dog's personal vacation destination right here in Medford.
Barking Up the Right Tree in Medford: WoofConnect, Your Dog's Social Hotspot
Consider WoofConnect your dog's social hotspot. We connect you with fellow dog parents in Medford who have a pup of the same breed and age as yours. A canine companion who understands your dog's language and vibes with their energy. It's like discovering your dog's doppelgänger!
A Home Away from Home: WoofConnect's Caring Dog Boarding
Wave goodbye to impersonal, claustrophobic kennels and say hello to WoofConnect's nurturing and comfy environment. No bars, just a pet-loving sitter from your neck of the woods who's in tune with your dog's breed, vibe, and adorable quirks.