Zero-Cost Dog Boarding in Bend: WoofConnect, The Ultimate Dog Paradise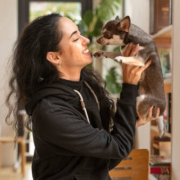 Here's a familiar conundrum for all dog owners: where to leave your furry companion when it's time for a vacation or a weekend getaway? Leaving your four-legged friend in a sterile, pricey kennel in Bend doesn't sound appealing. Wouldn't it be fantastic if your pooch also had a comfy, welcoming spot to chill while you're away? Someone who'd treat your pet with the same affection you do? That's where WoofConnect steps in – providing more than just dog boarding; it's your dog's cozy vacation spot right in Bend.
Bark n' Bond in Bend: WoofConnect, Your Dog's New Social Club
WoofConnect is a buzzing social club for dogs and their owners. It helps you connect with fellow dog owners in Bend who have a pet of the same breed and age as yours. A perfect playmate who speaks your dog's language and matches their energy levels. It's like finding your dog's long-lost twin!
Home is Where the Heart is: WoofConnect's Warm Dog Boarding
Say adios to cold, confining kennels and hello to WoofConnect's warm and inviting environment. No cages, just a pet-friendly sitter from your neighborhood who understands your dog's breed, personality, and all their cute quirks.