Say Hello to Free Dog Boarding in Eugene: WoofConnect, Your Fido's Dream Staycation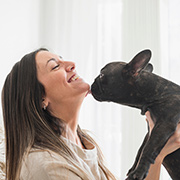 Who among us dog owners hasn't grappled with this dilemma? You're all set for that much-needed vacation or a spontaneous weekend adventure, but there's one hiccup. Who'll watch over your four-legged family member? The last thing you want is to park your beloved pup in a distant, costly kennel in Eugene, right? Instead, imagine if your furry pal could also have a vacation of their own, somewhere they feel snug and secure, under the care of someone who showers them with love and affection just like you.
WoofConnect is here to make that dream a reality. It's your one-stop solution for dog boarding in Eugene – think of it as a relaxing holiday for your pup!
Fostering Doggy Friendships in Eugene: Your Dog's New Pal is Just a Click Away
Think of WoofConnect as a fun, exciting social network, but for dogs. It hooks you up with other dog parents in Eugene who have a fur baby of the same breed, age, and zest for life as yours. It's like discovering a best buddy for your dog, someone who understands their language and vibes with their energy. And the best part? It's always a match made in doggy heaven!
A Home Away from Home: A Warm, Cage-Free Haven for Your Dog
Ditch the cold, impersonal confines of a kennel and welcome the warm, loving environment WoofConnect promises. No cages, just a caring sitter from your local area who knows your dog's breed, spirit, and, most importantly, their need for endless cuddles.