Dog Boarding in Hillsboro: WoofConnect, Your Dog's Second Sweet Home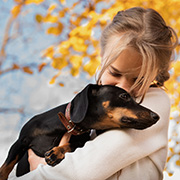 Every dog lover grapples with the same conundrum: what to do with your tail-wagging friend when you're off on holiday or just need a weekend respite? The last thing you want is to confine your loyal pal in a pricey, bland kennel in Hillsboro. Wouldn't it be great if your dog could also enjoy a cozy stay, somewhere they can wag their tail freely, feel at home, and be cared for by someone who loves them as much as you do?
WoofConnect is your answer – it's not just a dog boarding solution in Hillsboro, it's a haven for your canine compadre!
Connecting Dog Lovers in Hillsboro: A Twin for Your Pup is Closer Than You Think
Think of WoofConnect as a buzzing doggy social hub. It brings together dog owners in Hillsboro who have a furry sidekick of the same breed and age, just as peppy and playful as yours. It's like discovering a doggie doppelgänger for your dog, who understands their woofs and wags and shares their enthusiasm for life. And guess what? It's always a match made in dog heaven!
A Snug Harbor: A Homely, Cage-Free Retreat for Your Dog
Say goodbye to the cold, alien confines of a kennel and embrace the warm, nurturing environment that WoofConnect offers. No cages, just a caring sitter from your neighborhood who knows your dog's breed, vibes, and their limitless need for belly rubs.