In-home Dog Boarding in Waterloo: Feel at Ease Knowing Your Fur-Baby's in a Home, Not a Kennel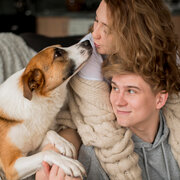 Just like you, every pet parent in Waterloo has faced that gut-wrenching dilemma: You're all set to hit the road for a well-deserved break, but what about your furry bestie? The last thing you want is to banish your four-legged friend to a sterile, impersonal, and exorbitantly priced kennel. Instead, wouldn't it be wonderful if your pooch could kick back in a warm, homey setting that echoes your love and affection? That's precisely what WoofConnect, your canine pal's home away from home, offers you. It's all happening right here, in your neighborhood.
A Woofy Wonderland: Waterloo Dog Owners Connect for Cuddly Boarding
WoofConnect is here to facilitate an extraordinary camaraderie among dog parents in Waterloo. The goal? To find that ideal sitter who owns a fur baby similar in breed, age, and energy as your own. Because a Doberman puppy and an elderly Basset Hound may not be the best playmates, right? The result is a match that's akin to a puppy play date, full of tail-wagging fun and comfort for your beloved dog.
Home-Sweet-Home Boarding: Saying Goodbye to Cages and Hello to Cuddles
Does your heart break at the thought of your fur-baby cooped up in a cage, far from the comforts of home? WoofConnect understands your pain. It offers a dog boarding service that replicates the warmth and coziness of your home. And the cherry on top? The boarding is for free.