Transform Your Dog Care Experience in Iowa City with WoofConnect: A Free, Trustworthy, and Personalized Dog Boarding Solution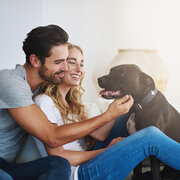 Iowa City dog owners, have you found yourself fretting over the care of your furry friend while you're out of town? Worry no more, as WoofConnect is here to revolutionize your dog care experience. This state-of-the-art application bridges the gap between dog owners in your vicinity, providing an exceptional dog boarding service entirely free of charge. It's time to wave goodbye to the anxiety that comes with overcrowded and overpriced dog boarding centers. Instead, welcome a wholeheartedly personalized, affordable, and loving approach to care for your prized pet. Here's all you need to know about how WoofConnect can change the way you care for your dog in Iowa City.
Discover Local Dog Boarding with Ease: A Network for Iowa City Dog Owners
With WoofConnect at your fingertips, finding free dog boarding options in Iowa City has never been this straightforward. The app, available on both the Apple App Store and Google Play Store, sets you on your path to finding trustworthy and local dog sitters. Set up a profile for your canine companion and start exploring a community of dog enthusiasts in your own neighborhood. WoofConnect is designed to streamline the connection between dog owners in Iowa City, ensuring your furry family member enjoys the undivided care and affection they deserve.
Preserving Your Dog's Routine: A Second Home Tailored to Your Dog's Needs
A dog's well-being is rooted in maintaining its routine, and WoofConnect understands this principle better than anyone else. Unlike conventional dog boarding facilities with strict meal and walk schedules, WoofConnect facilitates an adaptable approach through in-home dog boarding. Prior to your dog's stay, you can converse with the dog sitter about your dog's particular needs, ensuring they stick to their familiar routine. This lets your dog feel comfortable and relaxed, even in your absence, providing a sense of a home away from home.