Free Home-like Dog Boarding with WoofConnect in Davenport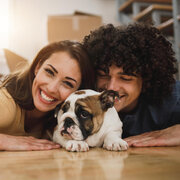 Hey there, fellow dog lover! We totally understand that feeling when you're planning a much-needed getaway, but the thought of leaving your furry friend behind pulls at your heartstrings. And let's face it, traditional kennels can be a bit impersonal and come with a hefty price tag, ranging from $35 to $55 per day in Davenport, IA. That's like a doggy luxury vacation, with prices soaring up to a whopping $200 to $350 for just a week!
But fret not, because we've got some pawesome news for you. Say hello to WoofConnect, the game-changer in dog boarding right here in Davenport! It's time to wave goodbye to those exorbitant kennel fees and welcome a new way of dog boarding that's personalized, affordable, and oh-so-loving.
Tailored Boarding for Your Pooch in Davenport
Imagine a dog boarding experience that feels just like home, tailored specifically to meet your furry friend's needs. That's exactly what WoofConnect brings to the table. It's like that awesome neighborhood block party but for dogs. This incredible platform connects dog owners in Davenport, creating a vibrant community where you can find the perfect home away from home for your beloved pooch.
WoofConnect matches you with a fellow dog owner who has a dog of the same breed and age as yours. It's like finding a long-lost soulmate for your furry buddy, someone who truly understands their quirks and charms. This way, your pup gets to enjoy a cozy and loving environment, surrounded by their doggy BFFs.
A Dog-Loving Community That Speaks the Same Language
You know that magical moment when dogs of the same breed and age meet? It's as if they have their own special language, and you can't help but notice the instant camaraderie. Well, WoofConnect taps into this unique doggy dynamic to create harmonious boarding experiences for our four-legged companions.
Within the WoofConnect community, your dog's vacation partner will have the same energy level and temperament. It's like finding a best friend for your pup, someone they can frolic and play with to their heart's content. Even our older dogs, who appreciate a good nap more than anything else, can find a perfect match in a dog who appreciates the art of relaxation just as much.