WoofConnect: Discover Home-Like Dog Boarding in Naperville, IL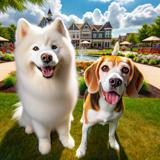 In the lovely city of Naperville, we know how tough it can be to find someone you can trust to look after our dogs when we're not around. Regular dog kennels charge you like $50 to $90 a day, which adds up to between $350 and $630 for a whole week – and that's a lot! Also, these places can feel cold and unwelcoming, making us pet owners pretty nervous.
Building Bonds: The WoofConnect Community for Dog Lovers in Naperville
At WoofConnect, we really value the special relationship dogs have with their people. We believe that dogs are happiest in friendly and known spaces together with other friendly faces. With this idea in mind, WoofConnect aims to bring together dog owners in Naperville to create a network of trusted pet lovers. This community is all about forging friendships, sharing the duty of pet care, and most importantly, making sure your dog feels the coziness and affection of a home when you can't be there.
A New Way of Affordable Dog Boarding: Bringing Luxury to Everyone
Considering the steep prices charged by typical pet kennels around Naperville, WoofConnect offers a new and wallet-friendly option. Through our community-focused system, we link up local dog parents, making it possible to look after each other's pets. What's the best part? It doesn't cost anything at all.