Discover WoofConnect: Your Dog's Home Away From Home in Arlington Heights – Completely Free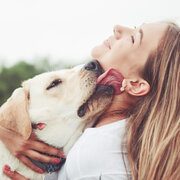 Every pet parent faces the challenging decision of where to entrust their beloved dog when travel, work, or unexpected circumstances arise. Traditional boarding options in Arlington Heights offer peace of mind but at a steep price, with the cost often spiraling from $45 to $75 per day. For a week's stay, you're looking at a daunting bill ranging from $315 to $525. These substantial figures, combined with the sterile atmosphere of a conventional kennel, might leave you pondering for alternatives. Here's where WoofConnect steps into the picture, revolutionizing dog boarding in Arlington Heights by merging the comfort of a home-like environment with the charm of cost-free care.
Breeding Bonds in Arlington Heights' Vibrant Dog Community
WoofConnect is not just an app; it's a dynamic platform that unites Arlington Heights' dog lovers. By connecting owners of dogs of the same breed and age, it helps your dog find their perfect playmate—someone who speaks their language and matches their energy levels, fostering a bond that transcends mere companionship.
A Nurturing Nest Away from Home: WoofConnect's Vision for Dog Boarding
WoofConnect is set to redefine dog boarding in Arlington Heights, swapping cold, unfamiliar kennels for a home-like, inviting environment. Imagine your dog being cared for by a fellow dog lover from your own neighborhood, someone who understands the quirks and unique needs of your pet's breed. WoofConnect transforms the concept of dog boarding from a necessity to a delightful experience, filled with warmth, care, and understanding.
Exemplary Care at Zero Cost: WoofConnect's Revolutionary Dog Boarding Paradigm
WoofConnect is a game-changer, providing attentive, personalized care in a cozy environment without burning a hole in your pocket. The joy of knowing your dog is having a fantastic time, combined with the relief of saving on hefty boarding fees, makes WoofConnect an irresistible proposition for pet parents.