Welcoming WoofConnect: Home-Like Dog Boarding in Peoria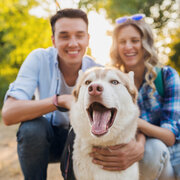 Ever had that feeling of simultaneous exhilaration and apprehension when planning an escape from your routine? The joy of a long-anticipated vacation being slightly dampened by the worry about your furry companion's care in your absence. The conventional dog kennels in Peoria, IL, do provide a solution, but they come with a hefty price tag—$40 to $75 per day, amounting to an eye-watering $280 to $525 for a week. Besides, the clinical, impersonal nature of kennels doesn't quite cut it for our pets, who are used to the warmth and coziness of their homes. Enter WoofConnect, a game-changer that's set to completely transform the dog boarding landscape in Peoria!
WoofConnect: Building Bridges in the Dog-owning Community of Peoria
Imagine WoofConnect as a lively block party, but exclusively for dogs! This intuitive platform brings together dog owners in Peoria, creating a community where you can find a snug, home-like space for your pet when you need to be away. WoofConnect allows you to connect with a fellow dog parent who understands your dog's breed, age, and unique quirks as well as you do.
Creating Paw-fect Matches: Same Breed, Same Age
There's something heartening about watching dogs of the same breed and similar age interact. Their instant rapport, understanding of each other's energy levels, and temperaments are truly fascinating. WoofConnect taps into this remarkable dynamic to facilitate delightful boarding experiences.