Experience Free Home-Like Dog Boarding with WoofConnect in Chicago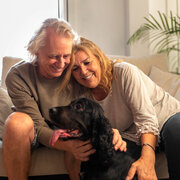 Chicago is renowned for its towering buildings and the quiet beauty of Lake Michigan. Dog owners here often struggle with finding the right care for their dogs when they can't be around. Regular kennels might be safe, but they lack the coziness that dogs need. Enter WoofConnect: our mission is to change the dog boarding game in Chicago by providing top-notch care in a homely environment. We match your dog with local dog lovers who will treat them like their own.
WoofConnect: Where Chicago's Dog Owners Find Their Match
At its heart, WoofConnect is about the special relationship between dogs and people. Dogs do best with folks who get their unique personalities and energy. That's why we've made a service that lets Chicago's dog owners find perfect matches for their pets based on breed, age, and activity level. This means your dog gets a boarding experience that feels like home, making friends along the way. Our service is built on trust, kindness, and a love for dogs, ensuring your pet gets the best care.
Cheap Yet Quality Dog Boarding in Chicago: Great Care Without the High Cost
In Chicago, you might pay anywhere from $60 to $90 daily for boarding, which can add up to $420 to $630 weekly. WoofConnect believes that excellent pet care shouldn't cost you an arm and a leg. By using a community-driven approach, we're shaking up the traditional dog boarding scene. WoofConnect introduces you to others in the community who are looking to board dogs at more reasonable rates, without compromising on quality or safety for your furry friend.
Our platform assists fellow dog owners by sharing the responsibility of pet boarding during holidays or business trips. This method significantly cuts down on the cost of pet care while making sure your dog is looked after by someone caring and capable.
Knowing Breeds and Energy Levels: The Key to Great Pairings
Different breeds of dogs have their own unique characteristics and energy levels. WoofConnect takes these into account to pair dogs from the same breed together. This focus on matching compatible pets ensures that your furry friend will have a great time when they stay with us. Dog owners in our community understand the quirks of various breeds, which makes it easy for your pet to settle in with their temporary caregiver.