WoofConnect: Comfy, Free Dog Boarding in Minneapolis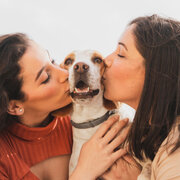 Having a dog is amazing, yet sometimes it throws you curveballs. Take, for instance, those moments when a work trip or vacation pops up and bringing along your four-legged buddy isn't an option. Regular dog boarding spots in Minneapolis offer a fix but can hit your wallet hard – think $50 to $90 daily. That adds up to a whopping $350 to $630 over a week! Plus, the cold feel of typical kennels might not be what you or your pooch prefer. That's where WoofConnect dog boarding Minneapolis comes in, mixing the warmth of staying in a real home with the perk of it being on the house.
WoofConnect: Strengthening Ties in Minneapolis's Dog-Loving Community
WoofConnect is so much more than a plain old service. It's an engaging platform designed to foster strong connections among dog owners who love their pets. By opting into this community in Minneapolis, you're setting up your pooch for delightful experiences and top-notch care—all without spending a dime. With WoofConnect, your dog scores a safe spot to stay while you're away, plus the company of caring fellow dog enthusiasts. So why wait? Download WoofConnect today!
WoofConnect aims to unite dog enthusiasts in Minneapolis. It links up pet owners with dogs that share breed and age, offering the perfect buddy for your pooch—a friend who gets their vibe, has similar pep, and clicks right away.
A Homey Spot When You're Not Around
Say hello to a cozy, welcoming place that's nothing like the chilly, faceless kennels you're used to. WoofConnect hooks you up with a community-based pet sitter who gets your dog's type, character, and all the cute things they do instead of putting them behind bars.
Luxe Care for Zip, Zilch, Nada: WoofConnect's Free Dog Sleepovers
In Minneapolis, you could fork out as much as $630 for your dog to bunk at a kennel for a week. But WoofConnect comes in clutch with homestyle care that won't cost you a dime. Your dog will have a blast, and your wallet will thank you—a no-brainer!