Discover WoofConnect Lansing: Free Home-like Dog Boarding and Pampering at Its Finest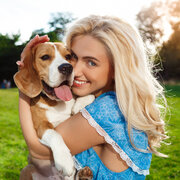 When it comes to dog, nothing but the best will do. That's why, in the heart of Lansing, WoofConnect stands as the dog boarding network ready to cater to your dog's every need. Say goodbye to ordinary kennels and embrace a unique and personalized vacation experience for your beloved pup. Let us connect you with local dog owners in Lansing who share the same breed or crossbreed, ensuring that your pup's getaway is tailored to their individual preferences. Find the ideal dog boarding match in Lansing.
Forge Unbreakable Bonds – Personalized Dog Boarding with WoofConnect in Lansing
At WoofConnect, we understand that your pup is one of a kind. That's why our network is designed to match your dog with local dog owners who not only provide a comfortable environment but also have dogs of the same breed or crossbreed. It's more than just a vacation—it's an opportunity for your pup to socialize and engage with companions who truly understand their breed-specific behaviors and quirks.
A Haven of Comfort and Care – Your Pup's Home Away From Home
Gone are the days of cold and sterile kennels. At WoofConnect, we prioritize your pup's comfort and well-being. The network of dedicated dog sitters in Lansing provides a loving and nurturing environment where your furry friend will receive personalized attention and care. From cozy beds to ample playtime and belly rubs, your pup will have a home away from home—a haven where they can feel safe, loved, and truly pampered.