Experience Top-Notch Dog Boarding in Detroit with WoofConnect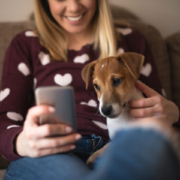 Are you searching for quality dog boarding in Detroit that provides a home away from home for your beloved canine companion? Look no further than WoofConnect, the innovative app transforming traditional kennel-style boarding and introducing a new era of personalized pet care.
WoofConnect: Reimagining Dog Boarding in Detroit
WoofConnect flips the script on impersonal, crowded boarding facilities in the Detroit area. We recognize the special bond you share with your dog and aim to replicate the comforts of home. Through our intuitive app, Detroit dog parents are matched with experienced local sitters who open their homes to provide one-on-one care. Your pup will enjoy the freedom to roam, play, and bond with other compatible dogs under watchful supervision.
Customized Boarding Focused on Your Dog's Needs
At WoofConnect, we don't believe in the "one size fits all" approach. The sitters in Detroit on the app cater to your dog's unique personality and needs. Are they energetic and love to play? Shy and need extra bonding time? Our app makes it easy to outline care preferences so your pet is completely comfortable. We also facilitate playdates with dogs of similar breeds and ages when possible. This allows your dog to socialize using their natural "language" and enjoy familiar play styles.