WoofConnect Ann Arbor: Free Dog Boarding in a Home-Like Haven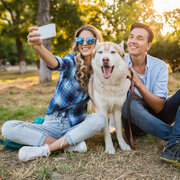 If you're searching for a top-notch and personalized vacation experience for your beloved pup in Ann Arbor, your quest ends here. Welcome to WoofConnect, the foremost dog boarding network in the USA, connecting you with local dog owners in Ann Arbor who have dogs of the same breed or crossbreed. We take pride in offering the most extensive network of dog boarding options to cater to your dog's unique needs.
At WoofConnect, we understand that every dog is an individual, deserving of a vacation experience that reflects their one-of-a-kind personality. Our expansive network ensures that we can match your dog with local dog owners who not only provide a home-like environment but also have dogs of the same breed or crossbreed. This means that your pup will have the opportunity to socialize and engage with companions who truly understand their breed-specific behaviors and characteristics.
Personalized Dog Boarding with WoofConnect in Ann Arbor
With WoofConnect, connecting with local dog owners who have dogs of the same breed and age as yours for dog boarding becomes a breeze. Your furry friend can have a playmate who they can communicate with and have a blast. Dogs naturally gravitate towards one another, as they share the same "language" and understand each other's behavior. This matching system works so seamlessly that dog owners often arrange playdates and outings together, forging lasting friendships.
A Comfortable Retreat for Your Beloved Pup
Rest assured, your furry friend will be immersed in a cozy and comfortable environment with a dog sitter from your Ann Arbor neighborhood who truly understands their breed and energy. The dog sitter will provide personalized attention and care, ensuring that your pup feels right at home and radiates happiness while you're away.