WoofConnect: A Groundbreaking Approach to Dog Boarding in Bradford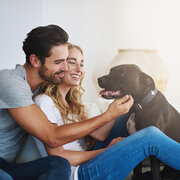 The heartache associated with leaving a beloved pet behind while on a necessary trip or a much-deserved holiday is a feeling familiar to every pet owner. In the city of Bradford, known for its rich industrial heritage and vibrant cultural scene, there is no shortage of traditional dog boarding facilities. But these conventional establishments often leave much to be desired, with their impersonal care, lack of homely environment, and lofty prices ranging from £40 to £70 per day. In the face of these challenges, WoofConnect emerges as an innovative solution, providing a unique, cost-effective, and personal alternative to dog boarding in Bradford, West Yorkshire.
WoofConnect: Cultivating a Warm Community of Dog Enthusiasts in Bradford
WoofConnect is more than a mere application; it's a meticulously devised platform aimed at fostering a strong community of dog lovers within Bradford. Our mission is firmly grounded in principles of shared care and reciprocity. By promoting an ethos where pet owners alternately care for each other's pets, we're able to provide a loving, homely environment without the financial burden typically associated with dog boarding services.
Bringing the Comfort of Home to Your Dog: WoofConnect's Philosophy
The philosophy at the core of WoofConnect is both simple and deeply impactful: we strongly believe that every dog should have access to the comfort of a home environment, even when their owners are away. In keeping with this belief, we pair your cherished pet with a fellow dog owner who can offer an environment akin to the warmth and familiarity of your pet's usual surroundings. This emphasis on homely comfort greatly alleviates the stress often accompanying pet boarding, ensuring your pet receives affection, care, and companionship in your absence.
Perfect Matches for Perfect Companionship: WoofConnect's Approach
WoofConnect places the utmost importance on your pet's comfort and happiness. Thanks to our advanced matching system, your dog is paired with a companion that matches their breed, age, and energy levels. This thorough selection process ensures a harmonious environment, transforming the boarding experience into a delightful escapade replete with engaging interactions and the potential for forging new friendships.