Unleash Free, Fun, and Friendly Dog Boarding in Minot – All Snuggles, No Shackles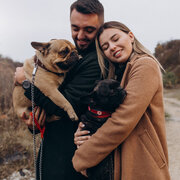 Hey there, you proud pup parent! Picture this – you're packing for a well-deserved vacation, but your heart sinks a little each time your dog gives you the "You're leaving me behind?" look. Let's not even mention the astronomical charges of kennels in Minot, which can set you back by $35 to $55 daily, adding up to a steep $200 to $350 for a week! It's quite a hit to your wallet, plus the kennels can feel somewhat cold and sterile, can't they? Now, wouldn't you love a place for your fur baby that's cozy, caring, and (best of all) free? It's time to make way for WoofConnect, Minot's answer to every dog owner's boarding dilemma!
Envision this: Cozy Dog Boarding in Minot, Custom-Made for Your Dog
Think of WoofConnect as a friendly, vibrant neighborhood get-together, but for dogs! It's a community of fellow dog owners in Minot, united in their love for dogs and their commitment to creating the best home-away-from-home experience for your pup. This means finding a fellow pet owner with a dog of the same breed and age, someone who can truly understand and cater to the quirky characteristics of your dog.
Join a Pack of Dog Lovers Speaking the Woof Language
There's something truly magical when dogs of the same breed and age meet – they share an instant bond, an understanding that's almost tangible. WoofConnect channels this unique connection to ensure your dog enjoys a harmonious boarding experience.
In our passionate dog lover community, your pet will be paired with another dog of similar energy and temperament. Imagine the fun your dog will have with their newfound soulmate! And if your pooch is an older gent or lady who prefers quiet naps over raucous romps, they'll find their match in another dog who values the peace and tranquility of their golden years.