Discover the Ultimate Doggy Staycation in Grand Forks – No Cages, Only Cuddles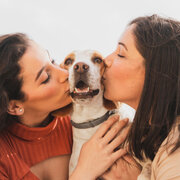 Hey, fellow dog lover! We know you've been there. That moment when you're planning a much-needed getaway, but the thought of leaving your beloved four-legged friend behind just tugs at your heartstrings. Kennels in Grand Forks come with a heavy price tag, ranging from $35 to $55 per day. That's a whopping $200 to $350 for a week! Beyond that, they can seem so… well, impersonal. You want your pup to be cozy and loved, not stuck in a cage, right? Enter WoofConnect, your new dog boarding game-changer in Grand Forks!
Picture This: Home-Like Boarding in Grand Forks Tailored for Your Pooch
WoofConnect is like that awesome neighborhood block party but for dogs. It's a platform that connects dog owners in Grand Forks, creating a community where you can find the perfect home for your dog's boarding needs. We're talking about a fellow dog owner with a dog of the same breed and age as yours. Someone who truly gets the eccentricities of your furry friend.
A Community of Dog Lovers Who Speak the Same Language
It's a beautiful sight when dogs of the same breed and age meet. It's as if they speak their own special language, and you can't help but notice the instant camaraderie. WoofConnect taps into this unique doggy dynamic to create harmonious boarding experiences.
In this dog-loving community, your dog's vacation partner will have the same energy level and temperament. It's like finding your pup's long-lost soulmate! Even the older dogs, the ones who enjoy their naps more than their frolics, find their match in a dog who appreciates the art of relaxation just as much.