WoofConnect: Redefining Dog Boarding in Fargo with Free, Personalized, In-Home Experiences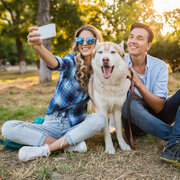 Ever encountered the predicament of locating a secure, homey, and reasonably priced option for your cherished pet during your travels? If so, you're in good company. The hunt for an affordable dog boarding facility in Fargo, North Dakota, can often feel like a daunting task. But imagine a scenario where your furry family member is not just accommodated but also treasured, coddled, and treated like royalty. Sounds like a far-fetched idea? Welcome to WoofConnect dog boarding Fargo, the app that's shaking up the status quo!
Your Dog's Home Away from Home in Fargo: The Ultimate Boarding Experience
Picture a platform completely dedicated to our loyal companions, where you have the opportunity to find the perfect home away from home for your dog. This isn't merely about upgrading your dog's boarding experience into a carefree retreat, but also about finding a dog-loving family that truly connects with your pet's unique persona. And the most exciting part? This delightful bonding unfolds right here, in the heart of Fargo!
Say Goodbye to Impersonal Kennels: Embrace the Comfort of Home with WoofConnect
Swap those cold, impersonal kennels for a nurturing, homely experience through WoofConnect. Your pet is welcomed into the warm embrace of a local pet lover who genuinely understands your dog's unique breed and character. It's akin to leaving your cherished pet with a trusted friend who is ready to shower them with endless affection and playtimes.