Free Home-Like Boarding in Milwaukee: Your Dog's Ultimate Retreat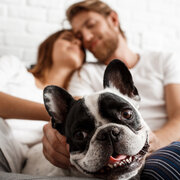 Planning a trip or a quick break? You don't want the stress of dropping your precious dog off at a distant and pricey kennel. You want them to stay somewhere comfy, feeling the love as if they were home. Enter WoofConnect. We're Milwaukee's top service for dog boarding, pairing pet parents with fellow dog enthusiasts who provide a homey setting for your pet. It's more than just a sleepover service—it's a group of people who adore dogs and are dedicated to giving top-notch care.
Find a Second Home for Your Dog at WoofConnect in Milwaukee
At WoofConnect, we get that each dog is special and needs something just right for them. So we help you find local dog owners in Milwaukee who have dogs of the same breed or mix. This means your pup can hang out with a buddy who gets them and has the same vibe. It's the secret to making a great pair and giving your dog a memory-filled time.
A Place Full of Love That Feels Like Home – Where Comfort and Attention Go Hand-In-Hand
Say so long to harsh kennels and welcome a friendly, homey space for your four-legged pal. With WoofConnect, they won't be stuck in a cage, but will instead enjoy caring sitters nearby who know their needs and spirit. Here, they'll find all the cuddles, snug spots to sleep, and loads of fun they could want. Your pet will feel absolutely at ease, surrounded by things they know and the one-on-one care they need.