Free, Homely Dog Boarding in Kenosha: A Comfortable and Cost-Effective Solution for Your Pet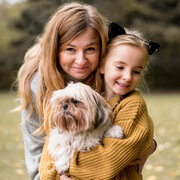 Being a pet parent in Kenosha, you're probably familiar with the challenge of finding suitable care for your furry friend when you need to be away. Entrusting your pet to a cold, impersonal, and often costly dog kennel in Kenosha is far from ideal. What if there was an alternative that replicated the comfort and affection your pet receives at home? This is where WoofConnect steps in, transforming the dog boarding scene in Kenosha. It connects you with like-minded local dog owners who have a dog similar in breed and age to yours, ensuring a perfect match.
WoofConnect: Facilitating Bonds Among Kenosha Dog Owners for Free, Comforting Boarding
Consider finding the perfect boarding companion for your dog in Kenosha – a fellow pet owner with a dog of the same breed or crossbreed and of comparable age. When dogs with similar energy levels and a shared "language" come together, it's a match made in heaven!
Home-Like Boarding – A Homely Getaway for Your Dog
Say adieu to the traditional concept of caged, unfamiliar boarding spaces. WoofConnect offers your dog the warmth of a home-like environment, under the care of a local who appreciates your dog's breed and energy levels.