WoofConnect: Dog Boarding in Germantown with a Unique, Homely, and Complimentary Approach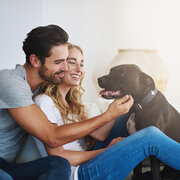 Securing the right dog boarding solution in Germantown can seem like an uphill task. However, with WoofConnect, America's dog boarding network, the challenge transforms into a seamless endeavor. Our platform facilitates connections between local dog owners, each having dogs of the same breed or similar crossbreed. This creates a cost-free, nurturing, and home-like sanctuary for your beloved pet when you need it most.
Fostering Local Connections for Reciprocal Dog Boarding in Germantown
WoofConnect serves as a bridge, linking you effortlessly with other dog owners in your vicinity who have dogs of the same breed and age. This intentional pairing ensures that your dogs share a common language and similar energy level, fostering an optimal bond that extends beyond traditional pet care norms.
Transforming the Boarding Experience: From Kennels to Comfort with WoofConnect
Bid farewell to impersonal kennels and welcome a personalized, homely boarding experience for your cherished pet. WoofConnect's groundbreaking approach allows your furry companion to enjoy the warmth and familiarity of a caring environment, nestled within your own neighborhood. The reciprocity model not only provides a comfortable space for your pet but also ensures understanding and care for your dog's unique breed characteristics and energy levels.