Free Homely Dog Boarding in Baltimore: WoofConnect, Your Dog's Preferred Getaway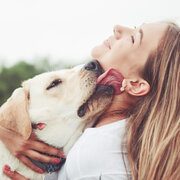 Picture this: you have to travel soon, but you're worried about where your dog can stay in Baltimore. The usual choice—a pet kennel—often seems too cold and uncaring, and it can cost a lot. WoofConnect is a great new option that gives your dog a cozy, loving place to stay for free. In Baltimore, this isn't just about having a spot for your dog to sleep; it's about giving them another place they can call home.
WoofConnect: Changing How Baltimore Does Dog Boarding
WoofConnect shakes up dog boarding in Baltimore. We've created a group filled with people who adore dogs. Your pet will find mates that are the same breed, age, and have similar amounts of energy. When your dog forms these special friendships, their boarding time becomes soothing and more fun.
Your Dog's Home Away From Home
Step away from the impersonal, clinical feel of regular boarding places. At WoofConnect, we partner with dog sitters in Baltimore who get what your dog needs and provide a custom and affectionate stay.
Low-Cost High-Quality Care in Baltimore
In Baltimore, leaving your dog overnight at a boarding place usually costs a lot, but not with WoofConnect. We offer high-quality care in a home setting without any fees. This lets your dog have a lovely visit while you save money.