WoofConnect: Revolutionising Dog Boarding in Portsmouth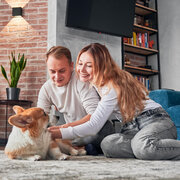 Planning a holiday or a weekend jaunt? The thrill is undeniable, but there's a niggle – what about your furry friend? In Portsmouth, dog parents often grapple with the idea of leaving their dogs in impersonal, costly kennels. But what if your canine could enjoy a stay that's as warm and welcoming as your home? Welcome to WoofConnect, where we're transforming dog boarding in Portsmouth, ensuring your four-legged pal receives the love and attention they deserve from a dedicated dog sitter.
Tail-Wagging Companionship: The WoofConnect Way
WoofConnect isn't just a service; it's a community, a unique platform in Portsmouth where dog owners can find fellow pet enthusiasts. Imagine your pup finding a mate with the same playful bark and boundless energy, all through our intuitive platform. It's about creating perfect pairings, a seamless connection between like-minded dogs and dog sitters in Portsmouth.
From Kennels to Comfort: The Cage-Free Utopia
Bid farewell to the obsolete kennel system. In Portsmouth, WoofConnect is all about creating a nurturing, homely environment for your pet. We match your dog with a sitter who understands their breed, personality, and energy needs. This is dog boarding redefined – personalised, caring, and right within your local area.
Cost-Effective and Caring: Choose WoofConnect
Think about the cost of traditional dog kennels in Portsmouth – it's steep, right? WoofConnect offers a fantastic alternative – complimentary and homely dog boarding. This service, brought to you by genuine dog lovers, ensures your pet receives the care and affection they crave, without breaking the bank.