WoofConnect: Revolutionising Dog Home Boarding in Canterbury with Bespoke, Complimentary, Home-from-Home Experiences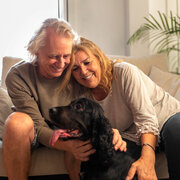 Have you ever grappled with the challenge of finding a secure, inviting, and reasonably priced doggy sitter or home boarding service for your beloved puppy during holidays? You're not alone. The quest for a cost-effective and trustworthy dog sitting facility in Canterbury can seem daunting. Enter WoofConnect, the innovative app redefining traditional dog boarding by offering a unique, home-from-home service, ensuring your pet is in safe hands.
Your Dog's Ultimate Home Boarding Experience in Canterbury
Imagine a digital platform devoted to our faithful four-legged companions, offering you the chance to secure the ideal local dog home boarder in Canterbury. This isn't just about transforming your dog's stay into a relaxing sanctuary; it's about finding a dog-loving family that syncs with your pet's unique personality, providing peace of mind and exceptional care.
Beyond Impersonal Kennels: Embrace Comfort and Love with WoofConnect
Bid farewell to cold, impersonal boarding kennels and embrace a nurturing, comfortable home setting with WoofConnect. Your pet is welcomed into the home of a local pet sitter in Canterbury, a trusted dog sitter who understands your dog's breed and temperament. It's like leaving your beloved pooch with a friend, filled with affection, playtime, and constant supervision.
Free, High-Quality Dog Home Boarding in Canterbury
Traditional dog kennels can be costly, impacting your budget significantly. WoofConnect redefines this, offering top-tier dog home boarding in a cosy setting, free of charge. Your pet enjoys a homestay they deserve, keeping your budget intact. That's our promise!