A New Era of Dog Boarding in Oxford: Introducing WoofConnect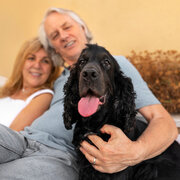 In the heart of Oxford, a new chapter unfolds in the world of dog boarding, marking a departure from traditional methods. WoofConnect emerges as a beacon of innovation, redefining the concept of dog care. This isn't just about a service; it's about creating a community, a network that understands and caters to the unique needs of our canine companions.
Transforming Dog Boarding in Oxfordshire: The WoofConnect Way
WoofConnect isn't your run-of-the-mill dog boarding option. It's a pioneering platform in Oxfordshire, bridging the gap between dog owners and other local dog owners. This service goes beyond mere convenience; it's about compatibility, ensuring that every dog finds a sitter who speaks their language, understands their breed-specific needs, and matches their energy levels.
A Canine Elysium: Beyond the Kennel
Gone are the days of the impersonal, cold kennels. In Oxford, WoofConnect is championing a kennel-free environment. It's a pet hotel like no other, where your dog is not just a guest but a part of a loving home. This service offers an unparalleled level of care, ensuring your dog's stay is as comfortable and enjoyable as your holiday.
Cost-Effective, Compassionate Care
When considering dog boarding options in Oxford, cost is a crucial factor. Traditional dog kennels can be expensive, but WoofConnect presents an affordable, high-quality alternative. It's not just about saving a few quid; it's about ensuring your dog receives the best possible care without breaking the bank.