WoofConnect: A New Way to Board Dogs in Brighton with Cosy, Complimentary Services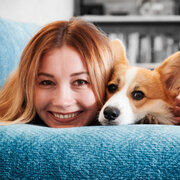 Preparing for a holiday or a brief getaway can be overshadowed by concerns about your dog's care. The thought of leaving your pet in an impersonal, costly kennel is unsettling for many Brighton dog owners. This is where WoofConnect comes in, offering a comforting alternative filled with love and care for your pet.
Welcome to Modern Dog Boarding in East Sussex
WoofConnect is not just another pet service – it represents a breakthrough in dog boarding in Brighton. This platform assists dog owners in finding the perfect match for their pets, ensuring dogs stay with others sharing similar breed characteristics, age, and energy levels. This guarantees your dog's time away is as cosy and loving as their time at home.
The Homely Approach: A Step Up from Traditional Kennels
The era of old-style kennels is over. With WoofConnect, dogs enjoy a cage-free environment, matched by local sitters in Brighton and who are familiar with breed-specific traits and activity needs. This personal approach significantly differs from conventional, detached boarding options.
Affordable, Expert Dog Care in Brighton
Regular kennels in Brighton might charge exorbitantly – daily rates between £20 to £35 are not uncommon. However, WoofConnect offers an amazing free service for housing your dog, relying on Brighton's community of genuine dog lovers, ready to provide professional-level care without the cost.