Embrace the Comfort of Domestic Dog Boarding in Victoria – An Unforgettable Retreat for Your Cherished Canine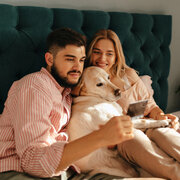 As a dedicated dog parent in Victoria, are you frequently caught in the crossroads of planning your holiday and ensuring your furry family member's comfort? The sight of those imploring eyes, silently questioning your impending departure, can tear at your heartstrings. The thought of leaving your precious pet in an expensive, detached dog boarding facility in Victoria's bustling center might not sit right with you. The mere notion of your pet in an unfamiliar, harsh setting, away from their comfortable home, can indeed be unsettling.
What your beloved dog genuinely deserves is a place as cozy and warm-hearted as your own dwelling. Envision a sanctuary where your pet can relax on a plush rug, participate in a lively fetch game with amicable friends, or snooze peacefully, feeling entirely secure and loved. You yearn for a safe haven where your pet can soak in the same adoration, comfort, and care that you generously provide.
Does this echo your dilemma? Take a moment to exhale your worries and let a beacon of optimism brighten your concerns. Here comes WoofConnect – your comprehensive pet-sitting solution in Victoria, thoughtfully designed to ease all your dog boarding worries!
WoofConnect Connects Dog Owners in Victoria for Boarding

WoofConnect wholeheartedly understands the significance of sourcing the ideal boarding solution for your adored pup. Therefore, we strive to build a community of dog owners in Victoria, uniting pet enthusiasts for a mutually beneficial dog boarding experience. Imagine the delight of finding a match with another dog owner who has a pup of the same breed, mix, or similar age. These dogs bond instantly, mirroring each other's exuberance, thus crafting an ideal partnership!
Homely Boarding – Your Dog's Personal Paradise
Time to shatter the outdated image of encaging your furry companion and adopt the idea of a nurturing, homely dog boarding experience. With WoofConnect, your dog gets to stay with a dedicated sitter from Victoria who not only comprehends your dog's breed but also vibes with their unique energy. This bespoke approach guarantees that your dog gets the love and attention they deserve, just like they would at home.