WoofConnect: Redefining Dog Boarding in Abbotsford – An Unmatched Home Away from Home for Your Canine Friend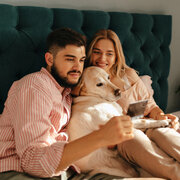 Preparing for a much-anticipated vacation or an exhilarating weekend getaway invariably brings up an important question for pet owners – what about your beloved canine companion? The idea of subjecting them to a cold, impersonal, and expensive kennel in Abbotsford might not sit well with you. Your pet deserves nothing but the best, and that's precisely what WoofConnect provides. Offering an unrivaled solution for dog boarding in Abbotsford, WoofConnect ensures a tail-wagging experience that is just as delightful for your pet as your holiday is for you.
Connect with Abbotsford Dog Owners for a Peerless Boarding Experience
WoofConnect provides an innovative platform where dog owners in Abbotsford can connect. This vibrant community comprises pet owners whose dogs share the same breed or mix and are of a similar age as yours. It's akin to finding a perfect playmate for your dog! They'll be able to communicate, exhibit similar energy levels, and bond perfectly. With WoofConnect, the concept of dog boarding undergoes a transformation, moving away from dull, isolated kennels to a stimulating environment where dogs can socialize and enjoy.
Home-like Boarding for Your Pet – Guaranteeing Love and Care
WoofConnect believes in shunning the concept of confining dogs to cramped cages and sterile environments. Instead, we ensure that your furry friend enjoys a comfortable and homely boarding experience. Our platform connects you with local caretakers who are conversant with your dog's breed and energy level. There are no strangers here, just dog-loving individuals ready to shower your pet with the affection and attention they deserve.