WoofConnect: The Premier Free Dog Boarding in Calgary, AB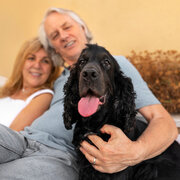 Finding a place for your dog to stay in Calgary, Alberta, can be stressful for dog parents. Traditional boarding kennels may lack the cozy and familiar atmosphere that dogs need. WoofConnect steps in as the perfect solution by providing a comfortable and luxurious experience for your pup in Calgary, AB. Unlike ordinary kennels, WoofConnect is like a second home, ensuring each dog enjoys their time and feels happy while their owners are away.
Joining Forces With Dog Lovers in Calgary
WoofConnect isn't just an app – it's about creating a supportive community for dog care in Calgary. We're dedicated to reciprocal help where dog owners can trust their furry companions with caring dog enthusiasts. This arrangement alleviates the stress associated with typical kennels and fosters stronger community connections. No matter if you're out for a brief period or need your dog watched overnight, WoofConnect is here to provide loving care seven days a week.
A Homey Retreat for Each Pooch
At WoofConnect, we believe every dog deserves to feel right at home. We pair your furry friend with a host family that can mimic the same level of comfort and daily routine they're accustomed to. In Calgary, our promise ensures all our canine guests receive everything from peaceful downtime to entertaining diversions, creating a nurturing environment for each stay.