Discover the Joy of Home-based Dog Boarding in Okotoks – A Vacation for Your Canine Companion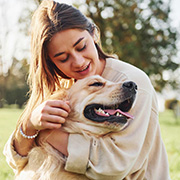 As a committed dog owner in Okotoks, do you often find yourself in a dilemma when it comes to planning your vacation or a quick weekend getaway? The sight of those expressive eyes of your dear four-legged companion looking at you with a touch of sadness as you prepare to leave them behind, can be heart-wrenching. The idea of consigning your furry bundle of joy to a pricey, detached kennel in the heart of Okotoks might seem less than ideal. The prospect of your pet in a strange, cold environment, away from the comfort and familiarity of home, can indeed be distressing.
What your canine companion genuinely merits is a place as snug and loving as your own home. Imagine a haven where your pet can lounge on a soft rug, enjoy a game of fetch with friendly companions, or take a restful nap, feeling absolutely secure and cherished. You long for a refuge where your pet can bask in the same affection, warmth, and care that you shower on them.
If this resonates with your predicament, then take a moment, breathe out your anxieties, and allow a ray of hope to light up your worries. Here comes WoofConnect – your all-in-one dog boarding solution in Okotoks, crafted to address all your canine concerns!
Fostering Canine Connections in Okotoks with WoofConnect
WoofConnect firmly grasps the significance of finding the perfect boarding arrangement for your beloved pup. That's why we endeavor to foster a network of dog owners in Okotoks, bringing together pet lovers for a mutually enriching boarding experience. Imagine the joy of finding a match with another dog owner who has a pup of the same breed, crossbreed, or similar age. These dogs resonate with each other, sharing the same energy, and creating an ideal partnership!
Homely Boarding Experience – Your Dog's Vacation Haven
It's time to dispel the notion of confining your furry friend in a cage and embrace the idea of a warm, homely boarding experience. With WoofConnect, your dog gets to stay with a dedicated sitter from Okotoks who not only understands your dog's breed but also syncs with their unique energy. This personalized approach guarantees that your dog gets the care and attention they deserve, just as they would at home.