Edmonton's Best Dog Boarding: Homey, Low-cost, and Reliable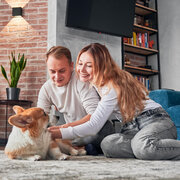 f leaving your canine buddy behind when you travel has been difficult for you as an Edmonton resident – you're not the only one. The idea of dropping off our cherished dogs at an impersonal, pricey kennel can be unsettling. No one likes to think of their furry friend in an unfamiliar and chilly environment, far from the warmth of their own home.
Your dog deserves an abode that feels as cozy and inviting as your own dwelling. Your beloved pet deserves a cozy spot to stretch, play around, or curl up for a relaxing nap, feeling loved and cherished. Picture a place where they're showered with the same affection you give them every day. Has this thought crossed your mind? No more worries – support is just a click away! Meet WoofConnect, the perfect solution for dog boarding in Edmonton, designed to put your mind at ease!
Welcome to WoofConnect: Transforming Dog Boarding in Edmonton
At WoofConnect, we understand that it's tough to find exceptional care for your furry friend. That's why we exist: to connect dog owners in Edmonton, helping you discover ideal boarding environments for your dogs. Envision matching your pet with another whose age or breed mirrors their own. This pairing can spark an excellent connection, nurturing their playfulness and social capacity!
A Homelike Setting for Your Dog's Stay
Gone are the times when our four-legged buddies were kept in kennels. WoofConnect pairs them with caring hosts who are knowledgeable about each dog's breed and personality traits. To us, dogs are part of the family. We aim to provide the same level of love and attention they'd receive from you at home.