Unbeatable Dog Boarding Solutions in Medicine Hat: Affordability and Comfort Rolled Into One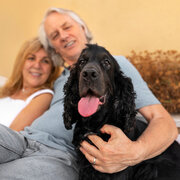 As a dog owner in the bustling city of Medicine Hat, are you often confronted with the vexing question of where to leave your beloved canine companion whenever travel beckons? The thought of depositing your valued pet in an unfamiliar, high-priced kennel can be troubling, to say the least. The image of your furry friend in a strange, sterile setting, far removed from the comfort and warmth of their home, can unsettle the heart.
What your dog genuinely needs is an environment that mirrors the comfort and warmth of your home, where they can sprawl on a comfy rug, engage in exhilarating games of fetch, or snuggle up for a midday siesta, feeling wholly secure and cherished. You dream of a haven where your pet can revel in the same love, care, and attention that they receive from you.
Does this situation sound all too familiar? Well, fret no more, as a solution is well within your reach! Introducing WoofConnect – the go-to pet-sitting solution in Medicine Hat, offering an answer to all your canine conundrums!
Medicine Hat Dog Owners, Rejoice: WoofConnect is Here
At WoofConnect, we recognize the significance of securing the optimal boarding arrangement for your treasured pooch. Hence, we link dog owners in Medicine Hat to establish a mutually beneficial boarding experience. Picture finding a match with another dog owner whose furry companion is of the same breed or mixed breed and similar age. These dogs communicate the same language, echo the same energy, and are perfect companions!
Your Dog's Home Away From Home with WoofConnect
Banish the old-school idea of confining your furry friend in a cage and welcome the idea of caring boarding in a homely ambiance. With WoofConnect, your dog stays with a devoted sitter from your area who is familiar with your dog's breed and understands their unique energy. This personalized approach ensures your dog receives the care and love they deserve, just like they would at home.