Lethbridge's Leading Dog Boarding Solution: Affordable, Inviting, and Trusted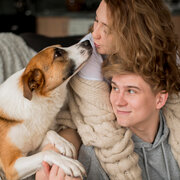 As a conscientious dog owner residing in the vibrant city of Lethbridge, are you often left wrestling with the dilemma of where to leave your cherished pet every time travel plans arise? The notion of entrusting your much-loved canine to an unfamiliar, high-priced kennel can be daunting. Is the thought of your beloved pet in a sterile, unknown environment, separated from the comfort of their home, somewhat unnerving?
What your dog truly warrants is an environment as homely and welcoming as your own, where they can luxuriate on a soft rug, engage in lively fetch games, or cuddle up for a serene afternoon nap, feeling entirely relaxed and valued. A haven where your pet can relish the same love, warmth, and attention they receive from you.
Does this scenario strike a chord? Fear not, because a remedy is at hand! Welcome to WoofConnect – your solution to all dog boarding challenges in Lethbridge!
Reimagining Dog Boarding in Lethbridge with WoofConnect
At WoofConnect, we comprehend the significance of securing the perfect boarding setting for your prized pet. That's why we bring dog owners in Lethbridge together to create reciprocal boarding experiences. Imagine the joy of finding a match with another dog owner whose furry friend is of the same breed or crossbreed and similar age as yours. These dogs instinctively understand each other, mirroring each other's energy, creating an unparalleled bond!
WoofConnect: Your Dog's Home Away from Home
Banish the traditional, restrictive concept of caging your furry friend. With WoofConnect, your pet stays with a devoted, local sitter who not only understands your dog's breed but also recognizes their unique temperament. This tailored approach guarantees that your dog gets the care and affection they deserve, just as they would at home.