Welcome to WoofConnect: Revolutionising Dog Boarding in Croydon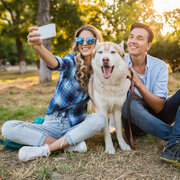 For many pet owners in and around Croydon, the prospect of planning a holiday or an essential business trip is accompanied by the important consideration of ensuring their beloved dogs receive the utmost care in their absence. Traditional dog boarding solutions, although available, carry concerns ranging from hefty costs – with prices in Croydon stretching from £25 to £45 per day – to the lack of a nurturing, home-style environment that our pets deserve, potentially leading to undue stress for our canine companions.
The landscape of dog boarding in Croydon, however, is poised for an unprecedented transformation. WoofConnect emerges as the harbinger of change, redefining the traditional concept of dog boarding by offering a superior level of personalised care within the welcoming confines of a domestic setting, greatly alleviating both the emotional and financial strain for pet owners.
WoofConnect: A Unique, Cost-Effective Solution for Dog Care in Croydon
Within the community-based network of WoofConnect, you will find a host of dog enthusiasts, each skilled in the care of various dog breeds, ready to extend a friendly paw. WoofConnect's mission is to interlink dog owners across Croydon, creating a warm, friendly, and flexible network where the ideal match for your dog's boarding needs is just around the corner.
With WoofConnect, entrusting your pet to a sitter is a choice to place them with someone who is not just a dog sitter but a fellow dog parent, nurturing a pup of similar breed and age, ensuring your pet is in the care of someone who resonates with their distinctive needs.