WoofConnect: Find Your Perfect Dog Sitter in Amsterdam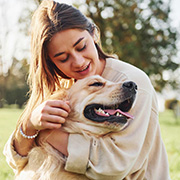 Are you looking for a trustworthy and loving sitter for your dog during your vacation? It's a familiar story: family and friends often don't have the time to care for our loyal four-legged friends. But don't worry, WoofConnect is here to help! Through this unique platform, you can find a dog sitter in Amsterdam. This ensures your dog stays in a warm, home-like environment. Say goodbye to the hassle of dog boarding facilities or dog hotels; your dog will be comfortably taken care of in someone's home.
Home Care for Dogs: The Ideal Solution
As a dog owner, you naturally want only the best for your furry companion, especially when you're on vacation. Home care for dogs offers an excellent alternative to traditional dog boarding facilities or dog hotels. At WoofConnect, we understand the importance of personal attention and care for your pet. When you entrust your dog to a sitter through WoofConnect, you can be confident that your dog will receive the necessary love and attention.
A Dog Sitter Perfectly Suited for Your Dog
At WoofConnect, we believe in creating the perfect match between dogs and sitters. We understand that dogs of the same breed and age often share a special bond. That's why we ensure your dog is paired with a sitter who already has a dog of the same breed and approximately the same age. This way, your dog can enjoy the company of a fellow canine and feel comfortable with the sitter.