Transforming Dog Boarding in Rhode Island – Trading High-Priced Kennels for Customized, Zero-Cost Boarding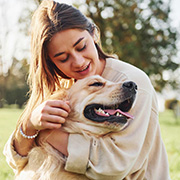 Picture yourself planning your upcoming holiday, but a sense of dread pulls at your heartstrings at the thought of leaving your furry companion behind. For those in Rhode Island, you know dog kennels are no small investment, often ranging from $45 to $75 a day. That quickly adds up to a hefty $315 to $525 for a week-long stay. Not to mention, these establishments might not offer the personal interaction your four-legged friend so richly deserves. That's where WoofConnect comes in, an innovative solution for dog boarding right here in Rhode Island!
Bespoke, Home-Like Boarding in Rhode Island Courtesy of WoofConnect
Picture WoofConnect as a lively, tail-wagging celebration, uniting dog owners across Rhode Island. This app creates a network where you can unearth the perfect home for your dog's boarding requirements. Consider finding a fellow dog parent whose pet is of the same breed and age as yours — someone who genuinely relates to the antics and charm of your cuddly friend.
WoofConnect Community: A Unified Chorus of Dog Aficionados
Observing dogs of the same breed and age interacting is indeed captivating. It's as if they communicate in their special doggy language, forming immediate bonds that are heartwarmingly beautiful. WoofConnect taps into this unique canine camaraderie to orchestrate harmonious boarding encounters.
In our band of committed dog devotees, your dog's vacation buddy matches a similar energy level and temperament. It's akin to uncovering your pup's long-lost twin! Even the senior, laid-back dogs find their counterpart who appreciates the fine art of relaxation just as much.