WoofConnect: Revolutionizing Free, Home-Like Dog Boarding in Manchester, New Hampshire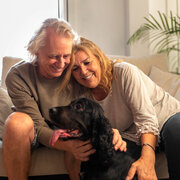 Have you ever paused before a business trip or vacation, wondering how to best provide for your dog's care during your absence? Traditional dog boarding facilities can often feel cold and impersonal, not to mention their substantial fees. Enter WoofConnect, a groundbreaking application that aims to redefine the landscape of dog boarding in Manchester and across the United States.
Building a Dog-Centric Community in Manchester
WoofConnect serves to establish a network of caring, dedicated pet owners within Manchester. Our unique model is designed around the concept of reciprocity, fostering a community where like-minded individuals provide free, home-like dog boarding services for each other. WoofConnect takes into account the breed, age, and energy level of each dog, ensuring a harmonious and stress-free match.
A Home Away from Home: Reimagining Dog Boarding in Manchester
WoofConnect acknowledges the deep bond between pet owners and their dogs, ensuring that the love and warmth your dog is accustomed to are never compromised. Rather than a confined kennel space, your pet will be welcomed into the home of a fellow dog lover. This shift in paradigm promises an environment that mirrors the comfort and familiarity of your own home, minimizing stress and maximizing comfort for your beloved canine companion.