WoofConnect: Free Dog Boarding in Lafayette – Your Dog's Dream Getaway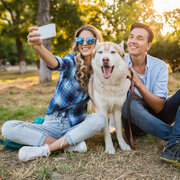 Are you ready for the ultimate dilemma every dog owner faces? You're all set for that well-deserved vacation or exciting weekend getaway, but what about your faithful furry friend? Leaving them in a cold, impersonal, and wallet-draining kennel in Lafayette? No way! Your dog deserves a place where they feel at ease, loved, and cared for – just like at home. That's where WoofConnect comes to the rescue, finding you the perfect match for dog boarding right here in Lafayette. Prepare for a tail-wagging experience that will make your dog's dreams come true!
WoofConnect: Connecting Lafayette's Dog Owners for Pawsome Boarding Adventures
Imagine connecting with other dog owners in Lafayette who have a canine companion just like yours. Same breed, similar age, and an energetic spirit that matches your own furry friend. It's like finding a playmate custom-made for your pup! These dogs speak the same language, share the same energy levels, and create an unbeatable bond. Say goodbye to boring kennels because WoofConnect brings Lafayette's dog owners together for an unforgettable adventure!
Homely Boarding: A Loving Haven for Your Pooch – A True Home Away From Home
Say farewell to cramped cages and sterile environments! WoofConnect offers a boarding experience that feels like a warm embrace. Your dog will enjoy the love and attention of a local sitter who knows their breed and energy inside out. No impersonal strangers here, just dedicated dog lovers who will treat your furry friend like family. It's a cozy home away from home, where happiness abounds, tails wag, and memories are made!