WoofConnect Gulfport: Free In-Home Dog Boarding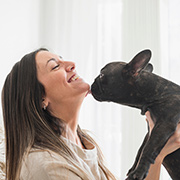 As a pet owner, leaving your beloved furry friend behind when you go on vacation can be a daunting task. Finding a trustworthy and safe place to board your dog while you're away is crucial for both you and your pet's well-being. WoofConnect Gulfport offers a fantastic alternative to traditional dog boarding facilities with free in-home dog boarding services that provide your dog with personalized attention, customized care, and a homey atmosphere that keeps them relaxed and comfortable.
In-Home Dog Boarding: Personalized Attention for Your Pup
In-home dog boarding with WoofConnect Gulfport allows your dog to stay in a comfortable and safe environment while receiving personalized attention from experienced dog sitters. Unlike traditional dog boarding facilities that may be overcrowded and stressful, in-home dog boarding offers a homey atmosphere where your dog can enjoy a relaxing vacation. Dog sitters who provide in-home boarding have more time to focus on your dog's specific needs, ensuring that they receive the attention and care they deserve.