WoofConnect Bowling Green: Free home-like Dog Boarding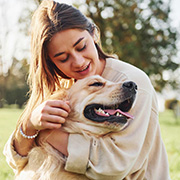 When it comes to finding the ideal vacation spot for your beloved furry friend, the search can be daunting. However, with WoofConnect, the dog boarding network in Bowling Green, your quest for the perfect dog boarding solution concludes here. Our innovative matching system ensures personalized and comfortable dog boarding services, connecting you with local dog owners who will provide your dog with an unforgettable dog boarding experience in Bowling Green.
At WoofConnect, we understand that every dog is unique and deserves individualized care. Our authoritative platform utilizes an innovative matching system that takes into account your dog's specific needs and preferences. We connect you with local dog owners who can provide a personalized and comfortable environment, tailored to your dog's requirements.
By joining WoofConnect, you gain access to a network of dog owners in Bowling Green. These experienced individuals are passionate about dogs and committed to offering a memorable boarding experience for your furry companion. Whether your dog enjoys energetic playtime or prefers a calm and cozy setting, our matching system ensures compatibility, creating a harmonious and enjoyable stay.
WoofConnect's unique matching systemfor boarding
WoofConnect's unique matching system ensures that your dog has a vacation spot that is tailored to their specific needs. You can connect with local dog owners who have dogs of the same breed and age as yours, which means your dog will have a playmate who they can communicate with and have fun. This way, your dog won't be bored or lonely while you're away. The personalized attention and care provided by a dog owner ensures that your dog will have a great time while you're away. The cherry on top? Home-like dog boarding at no cost, freeing you from concerns about expensive kennel fees.