Free, Home-Like Dog Boarding in Boston with WoofConnect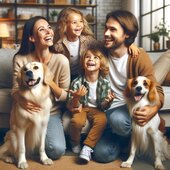 Every dog owner in the Boston area understands the concern of leaving their beloved canine companions behind while on vacations or trips. Boston, known for its rich cultural history, hosts several traditional dog boarding kennels but they often lack personal pet care and home-like comfort. Furthermore, the costs for these boarding services including overnight dog boarding can be steep, ranging from $50 to $90 per day. WoofConnect emerges in this scenario offering a unique, cost-effective and more personal alternative for the best dog boarding in Boston, Massachusetts.
WoofConnect: Fostering a Community of Dog Lovers in Boston
WoofConnect is not just an application; it's a thoughtfully designed platform aimed at creating a community of devoted dog owners and pet sitters serving the Boston area. Our operation is based on mutual care and reciprocity. By allowing dog owners to take turns in caring for each other's pets we provide a loving, home-like environment, eliminating the financial burden typical of boarding facilities in Boston.
Home Sweet Home: WoofConnect's Philosophy for Your Pup's Best Care
Our philosophy at WoofConnect is simple yet profound: every dog, from the smallest pup to the biggest big dog, deserves the comfort of home, even when their owners are away. We ensure this by pairing your beloved furry friend with a fellow dog owner who can offer a living situation that mirrors the warmth and familiarity of your pet's usual environment, thus providing peace of mind and ensuring your happy pet enjoys the best dog care.