Free Dog Boarding in Baton Rouge – Unleash Your Pup's Tail-Wagging Adventure!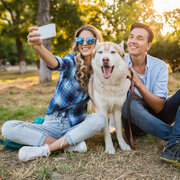 Do you dream of a stress-free holiday or an impromptu weekend trip but worry about your pet staying in an expensive, uncaring kennel? Don't let it hold you back any longer! We offer a fantastic option for you and your furry pal right here in Baton Rouge. Introducing WoofConnect dog boarding Baton Rouge, where securing a cozy and loving space for your dog is as simple as enjoying a leisurely stroll outdoors.
Finding the Perfect Dog Boarding Pair in Baton Rouge
At WoofConnect, we're dedicated to making the hunt for the best dog boarding experience hassle-free. We help Baton Rouge dog owners find each other, making it possible for you to locate the perfect boarding buddy for your pet. Imagine this: your pooch staying with another owner who also has a furry friend of the same breed or mix, close in age, and just as energetic. It's like matchmaking for dogs!
No Cages, Just Homey Comfort and Attention for Your Dog Pal
We understand that caging is not ideal for boarding, so we avoid it completely. Instead, your dog can relish a homely atmosphere filled with love and attention. The sitters and also dog owners are from your local area and are knowledgeable about different dog breeds and personality types. So wave goodbye to cold kennels and say hello to a warm, inviting second home for your beloved pet.