WoofConnect: Free Homely Dog Boarding with Local Dog Owners in Albuquerque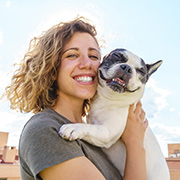 Looking for a proper dog boarding place can be tough, particularly if you want a friendly and individual touch for your pooch. WoofConnect in Albuquerque, USA, is here to help you out. Our app service links you up with local dog lovers who own a pup just like yours.
Find Dog Owners Like You for Friendly Dog Boarding
WoofConnect makes it a breeze to find other nearby dog owners with pooches that share your dog's breed and age. This way of pairing ensures your furry buddy will have a fellow canine they can easily get along with and play around with. Excited about a novel, wallet-friendly way of doggy daycare in Albuquerque? Keep reading!
Homey Dog Boarding in Albuquerque for Your Furry Pal
Your four-legged friend will avoid cages and instead chill in a neighbor's home who gets what your breed needs energy-wise. Your pet will get the one-on-one attention they deserve from someone who really clicks with them. Forget about the stark, sterile kennels; your dog's new hangout will be snug as a bug in a rug.
Custom Dog Boarding in A Home Away from Home
When you're off on a trip, leaving your beloved pet in a cold, faceless pen is the last thing you'd want. You'd much prefer them lounging comfortably with a friendly sitter who cares. WoofConnect zeroes in on the perfect companion right in your area with a compatible dog. With such great care, dog parents often set up playdates and even day trips together.