Introducing WoofConnect: Free Dog Boarding in Stirling – A Home Away from Home for Your Canine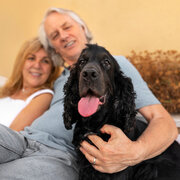 Are you plotting your next holiday or orchestrating a tranquil weekend retreat? For dog owners, the perpetual conundrum is: where should your faithful, tail-wagging family member stay? The very thought of leaving your treasured canine in a sterile and cost-intensive dog boarding kennel in Stirling can be quite disconcerting. While you're away seeking peace and engaging in new exploits, your dog should revel in an abode that radiates the same warmth and affection they receive at home. This is the vision behind WoofConnect, an innovative service offering complimentary and heartfelt dog boarding in Stirling, ensuring your dog is well looked after and absolutely happy and relaxed in your absence. Let's explore how WoofConnect is transforming the concept of pet boarding in Stirling.
WoofConnect: The Advent of Free, Nurturing Dog Boarding
WoofConnect serves as a beacon, linking dog owners in Stirling and the surrounding countryside, including Falkirk and Glasgow, who desire nothing less than the best dog care for their pooches. It's about matching your four-legged friend with a kindred spirit – a local carer who not only speaks the same canine dialect but offers a genuine love for dogs, ensuring your pet is in good care.
A Fresh Perspective on Dog Boarding: Cage-Free, Inviting Environments – A Canine Utopia
Bid farewell to the outdated kennel model and welcome the joy of finding your dog a secure, nurturing home in Stirling. WoofConnect carefully aligns your beloved pet with a local carer, ideally someone who understands the breed's specific requirements and can ensure your dog feels part of the family.
Transition from Pricey Kennels to Complimentary, Affectionate Dog Care in Stirling
Envisage this: conventional dog boarding kennels in Stirling could see you parting with £20 to £40 a day. On a week's scale, that tallies up to an onerous £140 to £280. Contrastingly, WoofConnect introduces an affordable alternative: free, comfortable dog boarding that doesn't compromise on care and attention, facilitated by true dog enthusiasts.